The way AFP is managed ensures, from an organizational point of view, conformity to laws and regulations concerning the following requirements:
QUALITY, ACCREDITATION and OTHER CERTIFICATIONS
SOCIAL RESPONSABILITY and EQUAL OPPORTUNITIES
MANAGING OF HUMAN RESOURCES
ENVIRONMENT AND SAFETY
The system, which has as its goal a high degree of integration, looks at all the processes within the company, guaranteeing their efficacy via a platform of informatics managing which makes it possible to coordinate the entire activity.
For all the processes, at all levels and for all activities, the resources used can use the managerial system of the company, fully standardized and translated into operative and documental flows.
QUALITY, ACCREDITATION
Quality System: AFP works with a System for the Managing of Quality certified according to regulation UNI EN ISO 9001:2015.
AFP has been certified since 09/03/2000.
AFP regards quality as a moral imperative and all the people who work for AFP must work with this very idea in mind and work scrupulously in order to provide the best possible service. With this in mind we can say that on-going improvement is seen as a periodical revision and review of technologies, organization, processes, projects, teaching methodologies with a commitment to the best integration possible.

CERTIFICATIONS
CERTIFICATIONS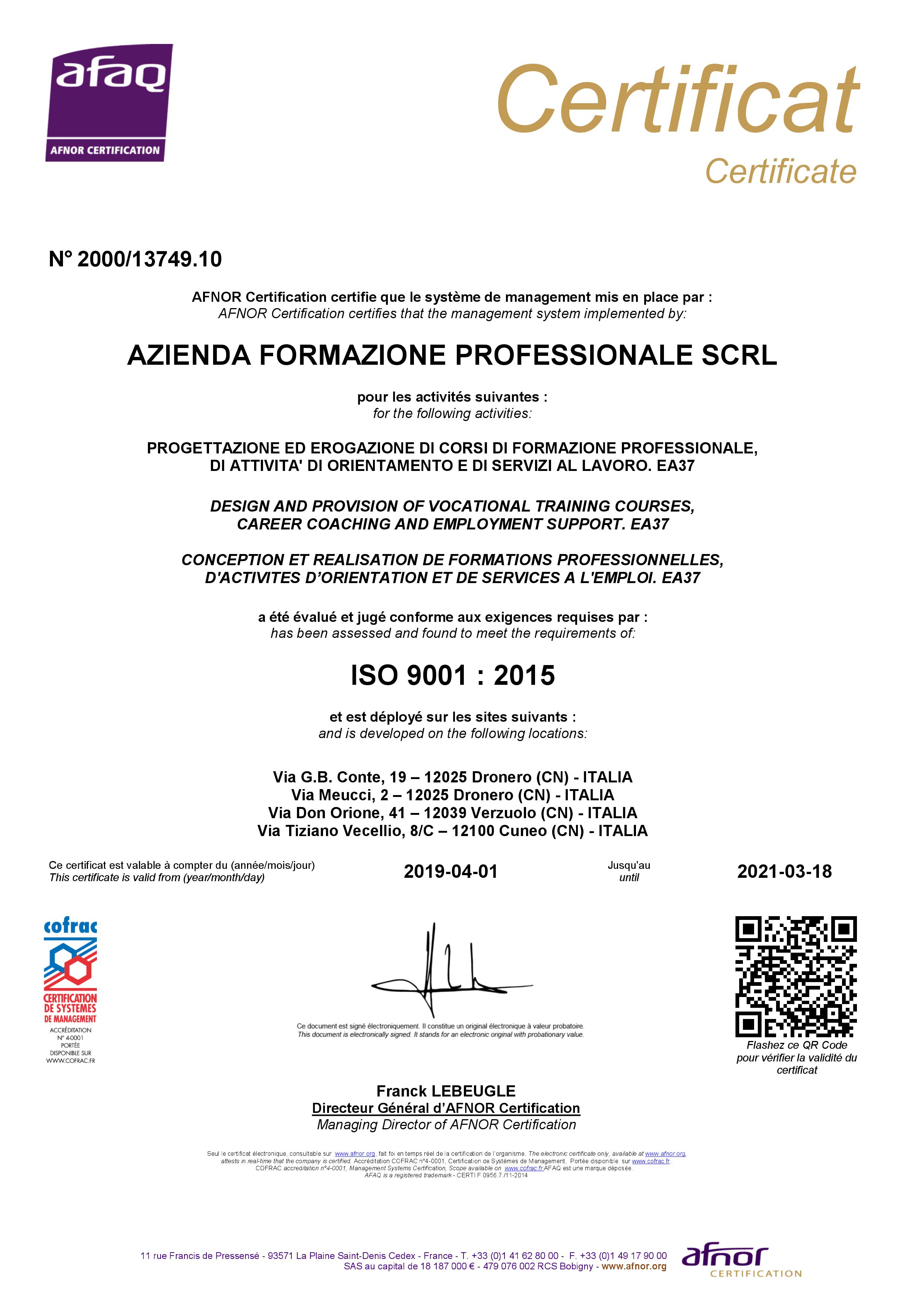 Regional Accreditation:
AFP is accredited by Regione Piemonte to offer educational and training activities and guidance financed by public funds and by funds for Services to work.
AFP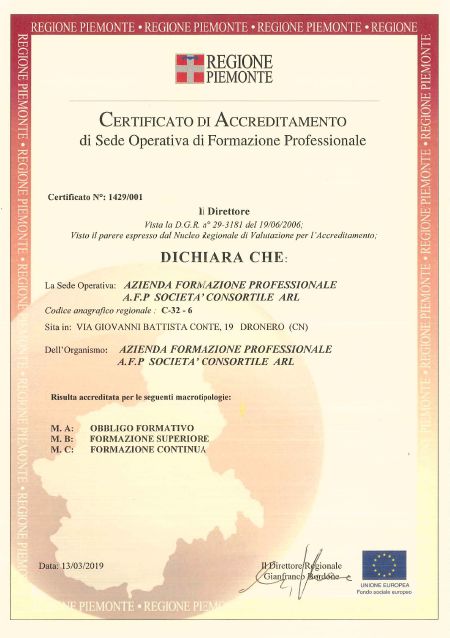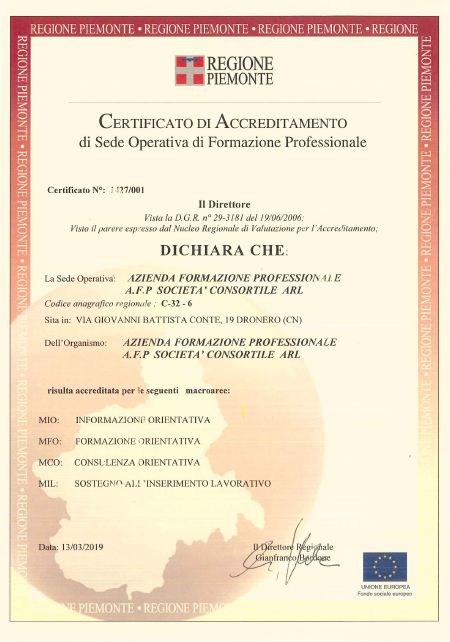 Center of DRONERO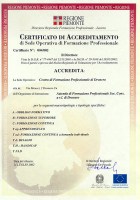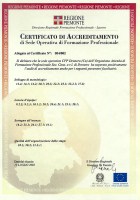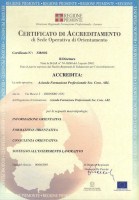 Center of CUNEO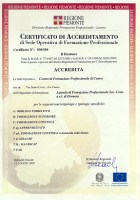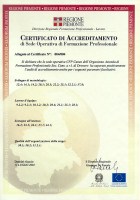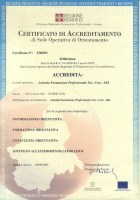 Center of VERZUOLO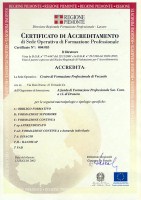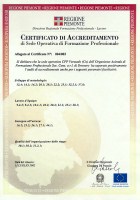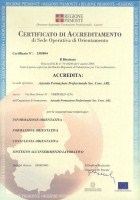 Inter-professional funds
AFP is accredited by Inter-professional funds to deliver courses, and specifically:
Fondimpresa
FORMATEMP:
- Identification code AFP DR: 2012
- Identification code AFP CN: 1964
- Identification code AFP VE: 2009

CORPORATE SOCIAL RESPONSIBILITY
For AFP it is very important to bear in mind at all times Corporate Social Responsibility, in line with EU regulations (Lisbon and Göteborg targets).
For what concerns the External Social Responsibility, the relationship with the local area and its main protagonists is regarded as a SERVICE PROVIDED. In AFP we believe that working on our local territory, on our local area is a value that must be enhanced with honest and open relationships and with mutual help
Every year 1500 people contact or come to AFP for many different reasons: to get training, guidance, updating of knowledge, ri-qualification, and employability for the youth, but also employed and unemployed people, people affected by disabilities, over 45 and men and women with family problems come to AFP.
Every year AFP via the balance sheet (SEE balance sheet 2012/2013), shows its partners all the work done and the impact on the territory
For what concerns the Internal Corporate Social Responsibility, AFP regards people as the most important and valuable potential and makes the most to give value to people trying to create a wellbeing within the organization and live respecting all working relationships.
The project the Board of Directors works on concerning human resources highlights the values AFP believes in and this can be seen in the way AFP is managed..
An Ethical Code has been written and is periodically updated by AFP and it guarantees the respect of the dignity of people with the working environment.
Our values
AFP Board of Directors believes in and works according to the following values and puts into practice the famous statement by the 32nd American President Franklin Delano Roosevelt: "if you are not part of the solution then you are part of the problem"..
Respect for oneself and others
Focus on people
Be aware of our own actions, be loyal and have sense of responsibility
Work as part of a team and group
Aim to reach targets
Keep high professional standards
Listen
Be transparent and responsible when it comes to managing administrative tasks
Be transparent and responsible when it comes to managing administrative tasks
On-going motivation for self-learning
EQUAL OPPORTUNITIES
Equal Opportunities in AFP can be summarized in two main targets:
-promotion of equal opportunities throughout all the areas of intervention of AFP policies taking into account mainstreaming ' (integration for what concerns equal opportunities in all economic, cultural and social policies) );
- promotion of respect of all kinds of differences in case these reflect individual choices or different cultural situations.
AFP deeply believes in and gives great importance to THE VALUE OF DIFFERENCE regarded as a potential and as something that can give extra resources.
The six areas of discrimination identified by EU lead us to respect all people from all different ethnic origins, sexual orientation, abilities, faith, age and gender. For what concerns the right to be different a special focus is put on gender which, to this day, all over the world is too often a source of discrimination and creates disadvantages in many areas such as society, families and work places to mention just a few
AFP works on the subject of EQUAL OPPORTUNITIES both externally, working on the local area, and also internally with specific policies.
THE EXTERNAL NETWORK
AFP plays an active role working with the local network which is coordinated by Consigliera di Parità Provinciale, to work on and defend themes like reconciliation, sharing of burdens and responsibilities, equality of wages and career progression, fight to violence, activation of services to families.
AFP is also concerned about themes connected to MULTICULTURALISM.
And in specific AFP plays an active role in the project called "Il Mondo a scuola, a scuola del Mondo" "The World in school, the school in the World", created by CRC foundation with the specific goal of introducing didactic policies appropriate for students of all degrees of schools which come from different ethnical backgrounds and giving value to their potential.

In the INTERNAL NETWORK there are: the person Responsible for Equalities of Agency and by the appointed people of the Center.
These appointed people meet on a regular basis to establish the policies of the company for what concerns inter-culture, social problems and disabilities in order to keep an on-going connection with the reality present in the local area, create opportunities of debates and meetings, give value to different experiences and play an active role in the network of equal opportunities in the area.
The Ethical Code of the company has a specific section dedicated to Equal Opportunities and the aim is to dedicate the highest attention to equality of treatment for all the people working for AFP, all the students ensuring also to each and everyone of them the right to safeguard any act, action or behaviour which might imply any form of discrimination either direct or indirect.
AFP has introduced both TELELAVORO (work outside office premises) and FLEXIBILITY (concerning arrival and leaving times and part-timing) which make it easier to put together different parts of people's lives such as work, personal and family life.
For what concerns the courses provided, equal opportunities are taken into account with the addition of specific modules on the subject. Moreover, some additional ways to promote it are added to make sure Equal Opportunities is part of the curriculum and well covered. The modules covering Equal Opportunities are well organized, contextualized and well thought for different students according to their age and according to the target in order to be effective and create interest and meet the needs of the students.
In 2012 two new projects were created and got approval from "Bando regionale di concessione contributi per realizzare un sistema di interventi di conciliazione tempi di vita e lavoro".(Regional project to donate contributions to create a system of interventions of conciliation of life and work).
link a sezione progetti
The first project "L'ufficio in casa: un modello di flessibilità e di conciliazione" ("The office in the work place: a model of flexibility and conciliation) is an example of telelavoro, work from home. The experiment involves the Responsible of Human Resources. This colleague has "her own office at home" and from her home she works just as she does from her office in AFP.
The other funded project was called "Il friendly coming". It was originated by the fact that in the school year 2011/2012, two people employed by AFP had a baby and they worked one as a secretary and the other as a teacher. The idea was to keep these colleagues informed about all the changes and what was going on in the company during their leave and once back at work they needed some training by their colleagues in order to make it easier for them to get back to work.
At the same time a third project was created, a project called "Un job sharing organizzativo" Organizal job sharing", with the goal to create a connection between work and family life and, at the same time, to make it easier for the company, to deal with two members of staff on maternity leave with all the duties connected to it and avoiding external help but actually making use of internal resources, reorganizing work, creating possibilities for an on-going updating of competences also when one of the people is not physically present.
HUMAN RESOURCES
Managing human resources in a positive and effective way is vital to create a nice atmosphere in the work place, especially when it comes to motivation, cooperation, collaboration and trust in people.
AFP works on projects which involve the managerial functions and their aim is to create useful tools to give value to people who work for AFP.
The aim of AFP is managing its staff looking at it as the main factor of growth seen both as personal and professional. What makes AFP great is the sum of all the different and specific competences, abilities and skills both technical and professional, the efforts, the passion and vocation of all the people who believe in AFP philosophy expressed by their work in this important field of training and education which is the base of "people building".
For all its courses and activities AFP has many different people who cooperate within the company and they can be divided in three groups:
Employed staff:
The employed staff is a group of 43 people who work in the fields of: guidance, teaching and training, services to work, research and development.
The employed staff can be divided in the three following sub categories: managers (Board of Directors), teachers and tutors, non-teachers, admin staff and auxiliary staff.
External teachers and tutors:
when a technical and scientific need is not available by AFP teachers the teaching is entrusted to external collaborators who works in collaboration with the employed teachers.
External collaborators who are not tutors:
for non-teaching activities such as research and development of innovative methodologies, AFP has created a partnership with other important companies and/or professionals in the field of teaching and training, guidance and matters concerning the world of work. About 100 people work in this way with AFP.
Bringing to light the potentials of human resources turning the different talents we all have into competences for human and personal growth of all people is, therefore, the challenge AFP works on at 360°.
SAFETY AND ENVIRONMENT
AFP has always been concerned about the environment and work in ways as to respect it, both internally and externally, promoting its safeguard and adapting its organization and methodologies used in line to the requests, norms and regulations of the field.
AFP has implemented a Managerial Integrated System which has as its main goal to guarantee a development of the company which fully respects all the people and companies involved bearing in mind an on-going improvement of environmental, health and safety performances in the workplace.